CURT Schilling has been taken off the broadcast team for ESPN's coverage of the Little League World Series on Tuesday (Wednesday, Manila time) after tweeting about Nazis and Muslims.
The former World Series MVP posted a meme that had comparisons of Nazi-era Germans and Muslims.
It's now off Schilling's timeline, but not before social media went abuzz about it. Over 131,000 follow Schilling @gehrig38 on twitter.
Aaron Gleeman of NBC sports was among those who noticed Schilling posted the meme then took it down right after.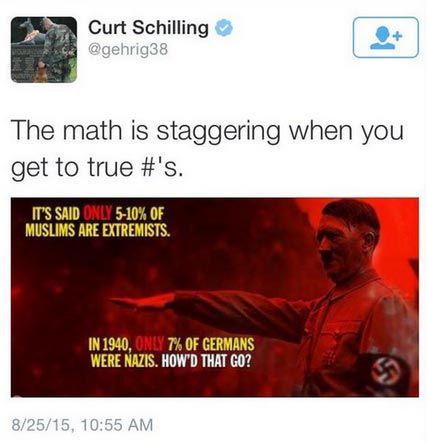 ADVERTISEMENT - CONTINUE READING BELOW ↓
ESPN released a statement and said the comments by the 'six-time All-Star and three-time World Series champion were "completely unacceptable."
Schilling later said it was a bad decision to post the meme.
I understand and accept my suspension. 100% my fault. Bad choices have bad consequences and this was a bad decision in every way on my part.

— Curt Schilling (@gehrig38) August 25, 2015