VIC Manuel is definitely catching everyone's attention with the way he' has turned into one of the most potent local scorers in the PBA Commissioner's Cup.
The Alaska star is posting an average of 24.8 points per game, leading all locals in scoring and ranking fourth among all players in the conference behind only imports Renaldo Balkman (30.2 PPG) of San Miguel, John Fields (29.5) of Columbian Dyip and Arnett Moultrie (27.4) of NLEX.
If that's not impressive enough, here's more.
Perhaps the most overlooked aspect of Manuel's play this conference is how he does it so efficiently. The 31-year old banger is playing a shade under 21 minutes a game this conference under coach Alex Compton.
To put that into perspective, no other player in the Top 15 on the scoring list is averaging under 32 minutes.
And oh, Manuel has also been one of the most efficient scorers this conference, as he's making 60 percent of his shot from the field, with an average of 10.7 makes in 17.8 shots.
In the same top 15 scorers list, only two players have a higher percentage than him in Meralco import Arinze Onuaku (63 percent) and Fields (61 percent). Both players stand 6-foot-9 and usually play in the paint unlike Manuel who operates around it.
Consistency has also been key for Manuel.
After a sluggish start to the conference where he was limited to just 12 points, Manuel has breached the 20-point mark the rest of the way. It's no coincidence that the Aces just happened to win all those six games.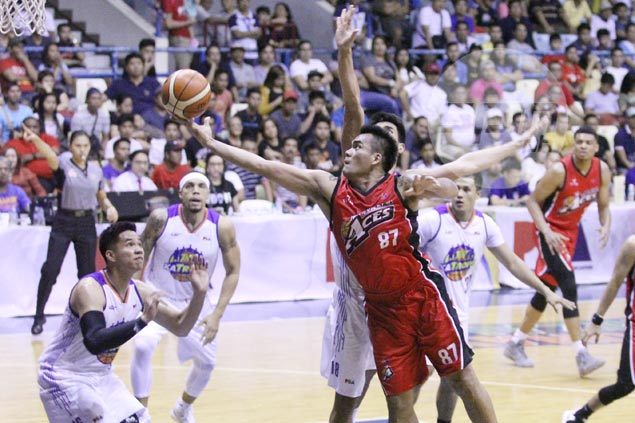 And there's definitely no signs of slowing down for the 'Muscleman,' as evidenced by the way he's upped his performance on a game-by-game basis.
In seven games this season, Manuel has either surpassed or matched his career high four times, according to PBA chief statistician Fidel Mangonon III. This was highlighted by a 35-point explosion - in 23 minutes of action - in their 103-99 win over Magnolia on Sunday.
Manuel was so hot in that game that Hotshots head coach Chito Victolero said the word 'masyado' and 'mainit' three times in just one short soundbite in his post-game interview to describe the rugged forward.
"Masyadong mainit si Vic e. Even if we collapse on defense, may mga scheme kami pero masyadong mainit. Mainit talaga siya masyado noong fourth quarter," Victolero said.
That's how hot Manuel was. Period.
Recommended Videos