Holding court inside the spacious boardroom of Alaska Milk's office in Makati, his body language relaxed but still prim and seemingly not one strand of hair out of place, Wilfred Uytengsu talks about discipline, challenge and pain as passionately as he discusses pricing and profit margins.
"I enjoy the training, I like to stay in shape so I enjoy the discipline, and I enjoy the challenge," Alaska Milk's president and chief executive officer said when asked how he finds the time, the energy and the motivation to indulge in an ultra-demanding sport like triathlon.
Most of all, "I embrace the pain," he added.
By his own count, Uytengsu has done from 40 to 50 regular triathlons around the world, about 16 70.3 races and just last October completed his fifth full-distance Ironman race – the 'Holy Grail' of the sport made up of a 3.86-kilometer swim, a 180.2-km bike stage and a 42.2-km run – in Hawaii at age 50.
That is no small feat considering Uytengsu also has the country's biggest dairy company to run, a professional basketball club to oversee, countless social obligations to tend to, and a family to look after.
So while 'discipline, challenge and pain' are often mere punch lines in a coach's pre-game speech, these are words Uytengsu the triathlete has to live by.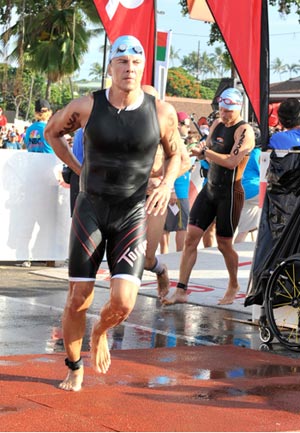 DISCIPLINE 
Doing the math in his head, Uytengsu figures he worked about 60 hours a week, devoted no less than 15 hours to training and was lucky to get six hours of sleep a night when preparing for Ironman races. That meant he had to be up at 5 a.m. and sneak in a second workout at lunchtime.
His training schedule usually read: bike on Monday, run on Tuesday, swim on Wednesday, back to the bike on Thursday, a swim and a run on Friday, bike and a run on Saturday and a run on Sunday. Some workouts were as short as one hour, he said, but some dragged on for 4 1/2 hours.
"Add up the hours and you don't have a lot of free time there," Uytengsu said.
Not that he is a stranger to rigorous training. Uytengsu is a former national swimmer who competed in the 1981 Southeast Asian Games in Manila, and made the University of Southern California's elite swim team as a walk-on.
The shift to triathlon seemed a natural step for him when he retired from competitive swimming. Uytengsu did his first triathlon in 1983, although it wasn't more than a decade – as well as several excess pounds – later that he took up the three-sport discipline seriously in the mid-nineties.
That was the point when "it was only my appetite which was in shape," he said.
However, the transition to triathlon wasn't exactly seamless, with the former champion swimmer looking more like a fish out of water as he struggled in the run stage. "I couldn't run to save my life," the flat-footed Uytengsu laughed. "I swim like a fish but I run like a fish, too."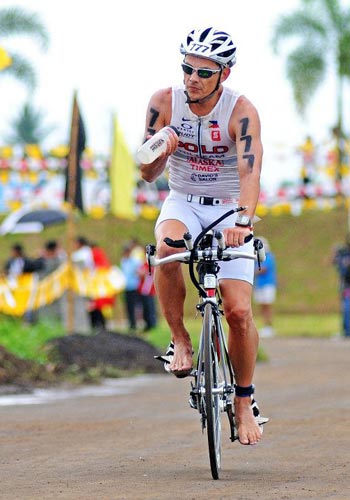 To be good at it, the Alaska top honcho found the need to map out a cross-training regimen tailor-made for his age and his packed business schedule, and at the same time incorporated all the new knowledge about proper hydration and nutrition during training and races.
These he did in the company of teammates at Polo Tri, the first triathlon club in the country which he helped found, and with the help of a professional coach based in Canada.
"You know it's a yearlong process. You can't just wake up one day and say, 'I'm gonna do Ironman.' You can't just take two or three months to prepare for Ironman. I'm training a good 11 months out of a year,'' Uytengsu said.
"Now some times are harder than others but it's so consuming, it's very obsessive compulsive. Like when we're on vacation, I'm thinking, 'Where am I gonna ride? Where am I going to swim?'
"And you know I have a very patient and understanding family but sometimes that patience runs out. And I've been doing this for 16 years."
            PAIN
All those months of training are meant to prepare you for that inescapable stage of the race when you begin to suffer – tank empty, legs as lame as spaghetti noodle, feet as heavy as lead, heart pounding at a thousand beats a minute; when all that is keeping you from quitting is will and determination.
That's the part, Uytengsu said, when you have to embrace the pain.  
"When you are out there doing a race, you have to be prepared to suffer. If someone cannot accept that, you're in the wrong sport,'' Uytengsu said.
"Even the fastest, the world champions, they're suffering, too. It's just that they're suffering shorter because they're faster," he added with a laugh.
Uytengsu needed only to look back at his last Ironman in October to stress his point. He had gotten sick a week before the Hawaii showpiece, lost a lot of weight, and was still throwing up on race day itself – not exactly the ideal shape to be in for the toughest one-day race in the world.
His complex training had, supposedly, prepared him for all eventualities. More so for that dreaded feeling which triathletes refer to as 'bonking,' better known by the more common term of 'hitting the wall.'
But nothing prepared him for this one.
"Even during the race, at some point I was very close to quitting," Uytengsu said. "They say I was in that deep, dark, ugly place."
            CHALLENGE
From his days with the Philippine swimming team, Uytengsu has relished the competition and the challenge. "That's just the way it is, I guess," he said. "Some people who have that gene really want to push themselves."
That should explain why, years after being snubbed for the individual butterfly events and reduced to racing in the relays in the Manila Southeast Asian Games back in 1981, he didn't pass up the chance to head the Philippine Amateur Swimming Association and, in his own words, "put things right."
That's also the reason why the Alaska Aces' rise from an obscure ballclub in the eighties to one of the most dominant teams in the Philippine Basketball Association continues to be a source of pride for its very involved owner.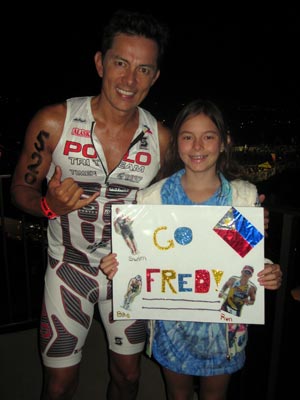 And that thirst for competition was what drove the former swimmer – by then fully immersed in the day-to-day operations of Alaska – to seek out fresh challenges in triathlon, at a time when the sport was almost unheard of in this land.
"What I really missed was the competition," he said. "I mean, in the PBA, it's my team that competes but in triathlon, it's me. Not that I'm gonna win, but I just enjoy the thrill of competition."
The high point of all those years of training and competition was supposed to come in last year's race in Hawaii, which Uytengsu had promised his wife and three kids would be his last in the full Ironman distance. He had also resolved that it would be his best performance ever.
That was until things went horribly wrong.
His body drained of all energy, gasping for breath and his mind torn between quitting and fighting on, Uytengsu's thoughts turned to his young daughter Kayla. The kid had been waiting for him at the finish line – a sign raised over her head saying, 'Go, Fred,' with daddy's pictures on it.
"She's been out there cheering for me. And I had this argument with myself while I was biking, 'What kind of example will you set for your child if you quit'?'' Uytengsu said.
"I remember thinking, "You've always told your kids that if you set out to do something, you finish it."
Uytengsu not only finished the race but eclipsed his best time in the Ironman by 32 minutes, although he collapsed after crossing the line and had to be brought straight to the medical tent for intravenous injections.
"I pushed as hard as I could," he said.
 Check out the video of Uytengsu at the finish line [taken by his wife Kerri from her mobile phone].
His last Ironman race may be behind him, but Uytengsu has no plans of slowing down. He will still compete in 70.3 races and devote as much time to advancing the growth of the sport in the country through his Sunrise Events, Inc., which has lined up four popular triathlon races this year.
Now on its second three-year deal with World Endurance Sports Group, owner of the Ironman brand, Sunrise will hold its premier Cobra Energy Drink 70.3 Ironman Race in Cebu City on August 5.
"I come up with these great ideas and I give (my staff) the headache of making them work," Uytengsu said.
Uytengsu doesn't see himself running triathlon races into his seventies – "I certainly see myself doing this for another 10 years. Then we'll see," he said – but don't expect to see him regularly in the more tranquil surroundings of golf courses anytime soon, either.
"Some of my friends have been asking me to play golf with them," he said with a grin. "It's a hard game, but I think I like something a little faster paced."