TAGUM City, Davao - It was no longer a surprise to see Rose Jean Ramos lift a 44-kilogram barbell with ease. The 11-year-old weightlifter, after all, has the blood of an Olympic heroine running through her veins.
A cousin of Olympics silver medalist Hidilyn Diaz, Ramos pocketed the gold medal in the 32-kilogram category in the 2016 Batang Pinoy at the Laureta National High School here.
The shy lass from Zamboanga City, who started training only lasy May, outclassed Tagbilaran City's Keisha Mae Felisilda and Mechelle Joice Bangquiao of Midsalip, Zamboanga Del Sur in just her first major competition.
Like everyone else, Ramos wants to be like her cousin, who rose to the sport's pantheon after winning the silver in the Rio Olympics last August - the first Filipina athlete to win a medal in the quadrennial showpiece.
"Gusto ko maging katulad niya pag laki ko," Ramos told SPIN.ph through coach Allen Jayfrus Diaz, who also happens to be their cousin.
Ramos in fact has raised the bar; she aims to surpass cousin Diaz.
She wants an Olympic gold.
"Gusto rin mas malampasan at maka-gold sa Olympics," said Ramos, who added that the Olympian gives them advice whenever she's in Zamboanga City.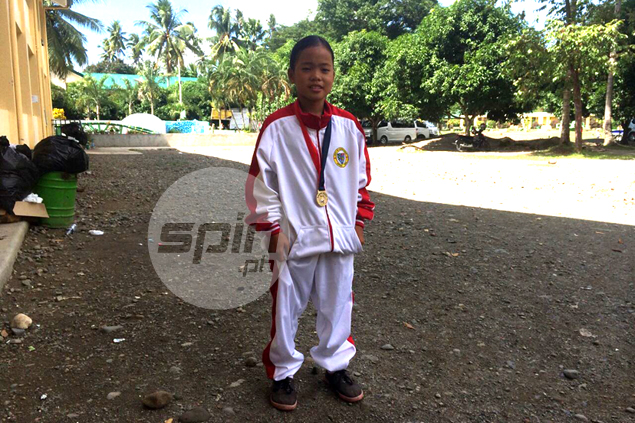 Her other relatives share the same dream. And from the looks of it, that goal seems to be well within reach as they stamped class as well in this competition organized by the Philippine Sports Commission.
Rose Gie Ramos and Maryflor Diaz topped the 13-17 44-kg and 48-kg categories, respectively, while Desiree Jane Diaz Garcia bagged silver in the 7-12 28-kg class.
Not bad a haul from a family who lives in the same compound with Hidilyn's family.
"Sports talaga ng family namin ang weightlifting," said the coach. "Sa pamilya talaga kasi, ine-encourage namin mga bata (na mag-weightlifting)."