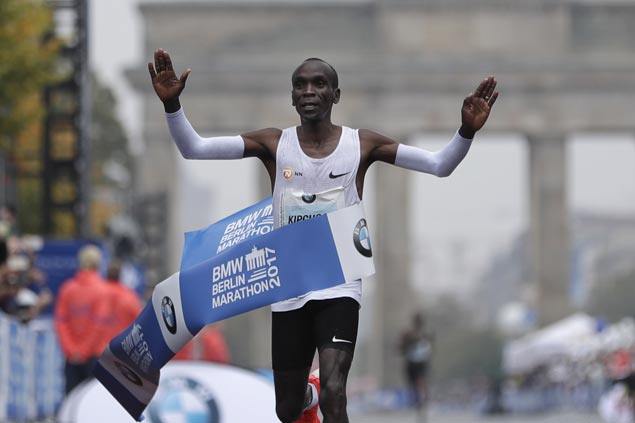 BERLIN — Olympic champion Eliud Kipchoge held off the challenge of debutant Guye Adola to win the Berlin Marathon on Sunday.
The Kenyan won in 2 hours, 3 minutes, 32 seconds, missing out on the world record by 35 seconds in wet conditions.
Compatriot Dennis Kimetto ran 2:02:57 on the same course in 2014.
"The conditions weren't ideal. It rained. Luckily there wasn't too much wind. In the end I'm just happy to have won against Adola," Kipchoge said.
Adola of Ethiopia finished 14 seconds behind, and surprised by pushing Kipchoge hardest. Defending champion Kenenisa Bekele fell behind and then former world-record holder Wilson Kipsang dropped out.
"That's sport," said Kipchoge, who won the Berlin Marathon in 2015 despite flapping insoles in his shoes.
Gladys Cherono won the women's race in 2:20:23, ahead of Ethiopia's Ruti Aga and fellow Kenyan Valary Ayabei.
Former winners Kipchoge, Bekele and Kipsang — the world's three strongest marathon runners with personal bests all under 2:03:30 — were targeting Dennis Kimetto's mark before the race but were hampered by misty drizzle.
The favorites all passed the halfway mark in 1:01:29, accompanied by Adola and Vincent Kiproto, but Bekele looked to be in trouble and fell out of contention shortly afterward.
Kipsang suddenly stopped at the 30-kilometer mark, leaving Kipchoge and Adola to duel it out.
The debutant made his move with around five kilometers remaining, but Kipchoge stayed on his tail and drew level by the 40-kilometer mark before pulling away for the victory.
Adola's time of 02:03:46 was the fastest debut on a record-eligible course.
While the drizzle dampened the top three's hopes of breaking the record, it provided relief for the majority of the 43,000 runners with more modest ambitions.
Several had their own records to beat, including Bernardo Castro Dominguez of Ireland, who wanted to run the men's fastest marathon dressed as a lucha libre wrestler; Jennifer McBain of Britain who dressed as a hot dog to beat the women's record for a marathon dressed as a fast food item; and Patrick Kennedy of Britain, who dressed as a snowboarder for charity.
The 52-year-old Kennedy ran the London Marathon while playing a mandolin.
"I thought this would be easier because I don't have to play the mandolin," Kennedy said of his 11th marathon. "Ich bin ein snowboarder."