MARESTELLA Torres is taking the road less travelled in her journey to the Rio Olympics.
Every week inside the posh residential village of Ayala Alabang, the 33-year-old long jump national record holder can be seen pushing a Mitsubishi Mirage hatchback up a hill, part of her new training regimen in her bid to compete in the quadrennial games in 2016.
There is no opportunity to slack off in her rigorous schedule that consists of twice-a-day workouts, seven days a week. She only gets Sunday mornings off when she only has to do one workout.
"There's no off days for an Olympic medal," said her new coach, Jim Lafferty, who practically supervises her training and nutrition.
The breakdown is 13 workouts a week: three yoga or meditation sessions; three weight training workouts; two specialized power training sessions using a combination of kettle bells or biometric training; two days devoted to sprint training to build her leg strength and three days devoted to jumping.
ADVERTISEMENT - CONTINUE READING BELOW ↓
Torres, who finished 22nd out of 32 jumpers in the London Olympics, signed a contract with Lafferty, the general manager of the British American Tobacco (Philippines) Ltd., who has pledged to provide whatever support is necessary to achieve Olympic success via his "Adopt an Olympian Program."
The two-time Olympian and Asian Championships silver medalist is no longer part of the national program, paving the way to for her involvement with Lafferty. Five months after giving birth to her first child, Torres is set to compete in Hong Kong as preparation for the Asian Games which would serve as a springboard for the Olympics, the real goal of their efforts.
Spending P1.2 million a year per athlete, Lafferty has placed Torres and her husband, shot putter Eliezer Sunang, under his wings - and his brand of discipline.
Among the changes have been a very strict diet and training guidelines. Even Torres' sleep is monitored.
ADVERTISEMENT - CONTINUE READING BELOW ↓
For the amount invested in Torres, she is receiving world-class training similar to what an American or European athlete is getting, according to Lafferty, who started his career as a professional athletics coach and fitness trainer who developed fitness programs.
"I am convinced if Marestella Torres is given what they're given, she's going to win," he said.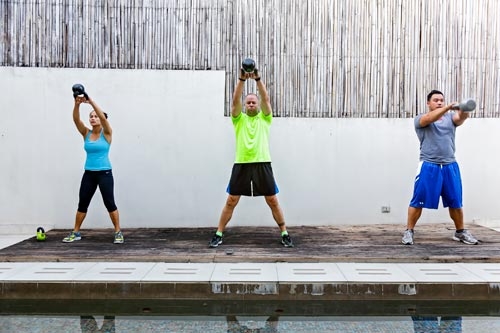 ADVERTISEMENT - CONTINUE READING BELOW ↓
Lafferty's personal initiative, the "Adopt an Olympian Program" aims to focus on 20 athletes in track and field with Olympic potential who would be privately financed by 20 corresponding CEOs. Aside from Torres and Sunang, three more athletes are set to sign up soon.
"What we've tried to do is construe a program which is competitive with anywhere in the world in terms of training capability and training investment," Lafferty said during a roundtable discussion with Spin.ph and other select members of the press at the Chateau 1771 restaurant at Greenbelt 5.
"I can coach Olympic-level track and field and have worked with Olympic-level gold medalists and I understand what it takes to win a gold medal in the Olympic Games," said Lafferty, a Philippine resident for the past eight years. The University of Cincinnati psychology and physiology major is presently an honorary coach and consultant of the Philippine Track and Field Association (Patafa).
ADVERTISEMENT - CONTINUE READING BELOW ↓
The 51-year old American business executive is an avid sportsman who has worked with national teams in the US, Germany, France and Nigeria where he was a part of the Nigerian delegation to the 2012 London Olympics.
As part of their preparations for Rio, Torres and her family have since moved to a rented house inside a posh residential enclave for her to be nearer to Lafferty who is closely supervising her training.
Her new coach also had issues leaving his wards in Ultra or Rizal Memorial Coliseum due to the lack of proper facilities and cramped living quarters, the poor nutrition and the enticement to go out in distracting social functions.
The Dumaguete native said she found it very hard when she began training six weeks after she gave birth to her first child, Elimar. Her mother is now taking care of her baby since she is already tired from training come the evening.
ADVERTISEMENT - CONTINUE READING BELOW ↓
"Napakahirap nung umpisa kasi weak ako (physically). Nine months akong walang training," Torres said, adding she was used to hard work but found that the step by step holistic approach advocated by Lafferty was different compared to the times when she was the one who had to come up with her own "trial and error" training plan she relied on in the national team.
Beginning with yoga exercises with a P5,000 an hour instructor working pro bono, Torres, a first-time practitioner, embraced the ancient discipline after experiencing its benefits.
Torres said yoga helped a lot in her flexibility since jumpers are required to lift weights that sometimes result in stiffening her muscles and that yoga has helped with her hips.
"Mares has very poor hips flexibility but its getting better and that will make her jump farther," said Lafferty who has also been able to lessen the training costs by signing up like-minded individuals who want to help out, including a Filipino-New Zealander nutritionist.
ADVERTISEMENT - CONTINUE READING BELOW ↓
Since she started her training, the former FEU standout said she felt the changes in her performance.
"For jumping, hindi na ako nahihirapan dahil magaan ang katawan ko and mas malakas not like before, mas bigger muscles ko pero mas mabigat ako. Mas malaki improvement because bumaba body fat ko which before I had no idea kung ano yung body fat ko. Naramdaman ko kasi sa training na stronger na ako," she said.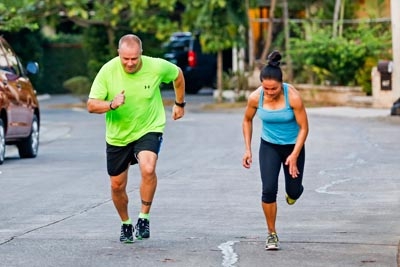 ADVERTISEMENT - CONTINUE READING BELOW ↓
She and her entire family have since been on a 'no rice' and 'no bread' diet to reduce her body fat percentage. She now weighs 52.7 kilos, far less than her 54 kilo weight during competition.
"Diet is 30 percent of her jumping," said Lafferty, adding that being stronger and lighter help make Torres, who has a history of injuries, less prone to injury, thereby allowing her the opportunity to train longer and get better.
Torres also does meditation sessions where she is taught how to visualize what a perfect jump looks like since the body does what the mind says, according to Lafferty.
"She's jumped 6.7 meters so she's 4 percent away from Olympic medal range, that's not far," he said. Seven meters will put Torres in medal position in the Olympics.
In order for her to do that, her team is taking her body fat down, building her strength as well as her mental power.
ADVERTISEMENT - CONTINUE READING BELOW ↓
"If we can find that 4-6 percent that would put her in the medal count, seven meters in the Olympics since 1988 has gotten a medal," Lafferty concluded.
To make sure his training program was up to par with the cutting edge training in the US and Europe, Lafferty flew in Dr. Christopher Breuleux, the founder and president of the Medical Wellness Association, who observed and provided an initial assessment.
Breuleux concluded that what he saw was close to what was being done overseas and lauded the holistic approach the team has adopted.
Torres is also tested every week with an advanced medical testing machine recently approved by the US FDA which Lafferty bought to test athletes in the program and is the first device of its kind in the country that performs interstitial scanning to measure her body fat, water retention and 67 different body function measures.
Lafferty describes long jumping as similar to throwing a paper airplane with the more force you have - the lighter the plane, the longer it goes and that if they get Torres strong but take her body fat down she will break every record.
ADVERTISEMENT - CONTINUE READING BELOW ↓
"Long jump is all about power-to-weight ratio," he said.
After the Asian Games, Lafferty is planning to enter Torres in Europe's Diamond League in the summer of 2015 so she can get used to competing in front of a massive audience without being intimidated and where she can also check out her would-be competitors in the Olympics.
When asked why he chose to support a new mother who would be 35-years old come the 2016 Olympics, Lafferty answered:
"Here's the exciting thing about Marestella Torres- she was consistently jumping at an international level with a body fat of 15 to 17 percent which is very good but the world class long jumpers are at 9 to 11 percent. She was jumping world-class jumps at that high level. That's why I'm so excited - if she brings her body fat down she'll be jumping on top of the world," he said.
ADVERTISEMENT - CONTINUE READING BELOW ↓
"You've taken this person and out her up against a group of scientists with an athlete in America with a big budget, there's a sports psychologist, team doctor, yoga instructor, there's everything and she's out by herself. That's why I will say right now the greatest athletic performance I have seen in my 30 plus years of coaching is Marestella Torres."
"She jumped world-class, Olympic-caliber distances without all the support - 6.71 with nothing. It's amazing what she has done. It' the most impressive athletic performance I have ever seen. She jumped on top of the world by herself. The only sadness I have on this was I didn't have her when she was 22."
It's truly fortunate that Torres' hardest taskmaster is also her benefactor and biggest believer.