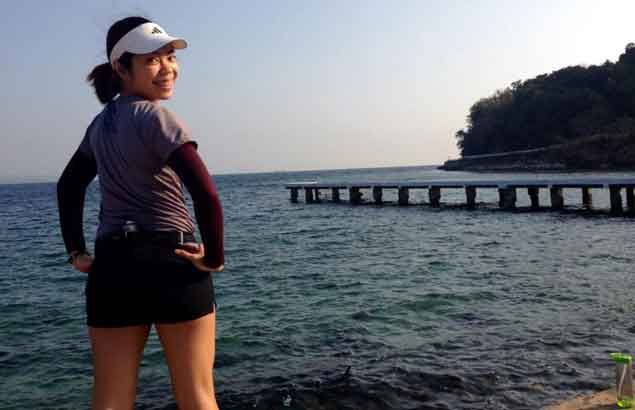 THERE aren't that many opportunities to run, much less race, in a historic battlefield.
On the early morning of March 15, I was at the ferry terminal at the CCP that was already filled with more than 200 runners for the 5th Corregidor International Half Marathon.
The race was originally slated for January but was moved back two months due to the 'no sail zone/no fly zone' declaration by the government due to Pope Francis' visit.
I was part of a group being trained by running coach Janette Agura. We were all first-timers to the tadpole-shaped island located at the mouth of Manila Bay. I felt that running in Corregidor is a more intimate way of getting to know a place I only read about in history books.
'Fortitude, courage, and honesty' were among the virtues raised during the commencement program. The trail included uphill and downhill slopes, grasslands, stairs, trails and a "killer" one-kilometer uphill in the final stretch. 
While singing the national anthem, my thoughts went to the fallen soldiers – Filipinos, Japanese, and American – who fought on Corregidor during World War II as well as the recent deaths of the 44 SAF commandoes in Maguindanao.  
The race started at 8:15 a.m. from Bottomside. We quickly tackled an uphill run - flat roads were scarce and there was a surplus of rolling trails. We passed the San Jose Chapel before entering the dimly-lit, 253-meter long Malinta Tunnel.
Grass-covered Kindley Airfield was flat but there was no wind and it was very hot. My running buddy Ellen and I wanted to get out of there as fast as we could. 
To counter the oppressive heat, I rubbed cold water on my legs using sponges in the water station. I placed ice inside my sports bra and at the back of my shirt. Some marshals gave me curious looks and laughed. At this point I really didn't care if I seemed absurd.
"Sabon na lang ang kulang ma'am," one marshal said. "Actually, dishwashing liquid na lang ipatak mo dito sa sponge, para na akong plato niyan," I replied.
I refilled my small water bottle at every stop. We were given sliced bananas dipped in honey, jelly candy and raisins – good for a quick energy boost.