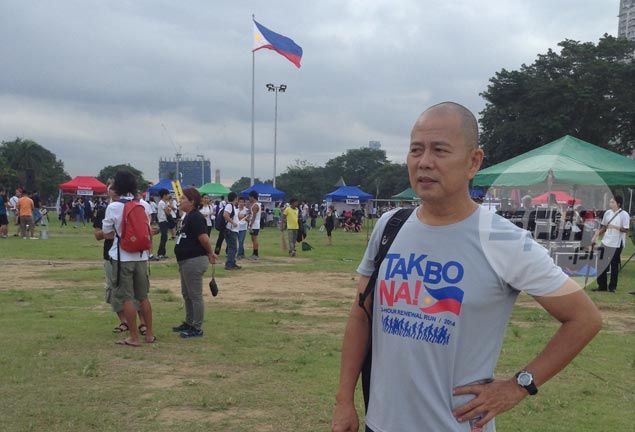 "TO fight political fat we begin working on our personal fat. Remember, the personal is political."
'Running Priest' Robert Reyes' latest campaign against the controversial pork barrel system has become more than just political and will probably hit close to home to many couch potatoes.
Reyes said his Six Million Kilos vs "FAT" campaign aims to collect pledges from runners and participants who would commit to lose a combined six million kilos in body weight to go along with the protest action against the pork barrel system in government.  
"Madali kasing pumirma na ako ay tutol sa pork barrel and then tapos na," the outspoken Catholic priest said in an interview with Spin.ph at the Rizal Park on the 1st anniversary of the Million People March and the launch of the 6 Million Signatures Campaign for the People's Initiative that aims to eliminate pork barrel.
To make the protest have a deeper meaning, Reyes said he decided to make it more personal.
"Tingnan mo ang sarili mo, ano ang personal fat mo? It can be a physical reality, it can be mental. Fat means anything that can become an obstacle to your health. Maraming tao ang hindi mataba ang katawan pero psychologically, spiritually, mentally they are stuck," he pointed out.
Last Sunday, the 'Running Priest' and his supporters ran from the Quezon Memorial Circle to the Diliman campus of the University of the Philippines where they collected 1,700 kilos from 120 people.
"We divided it and the average commitment of every Filipino we talked to is almost ten kilos. This means Filipinos accept there is something to work on. This is the twist to the Six Million Signatures Against Pork - that is outside. This is my own "pork" - its personal. And it's not only own physical pork, my own physical fat but everything that does not really belong to me and does not help me anymore."
ADVERTISEMENT - CONTINUE READING BELOW
He said that pork barrel and its various iterations that include PDAF and DAP are symptoms of an addiction.