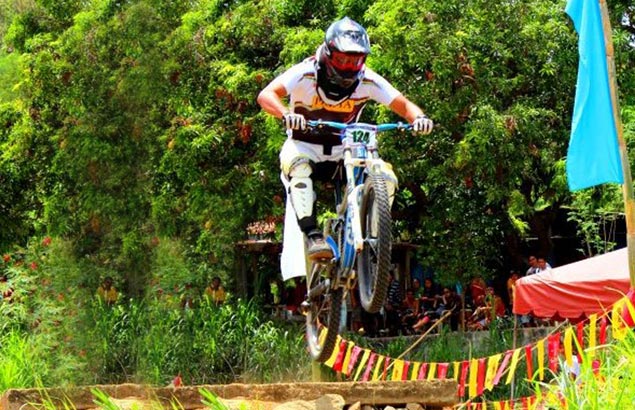 Filipino riders Eugenio 'Jing' Malabanan and Frederick 'Eboy' Farr qualified for the upcoming Asia Pacific Downhill Challenge in Sentul, Indonesia by topping their respective divisions in the three-leg national series of Downhill Riders Organization of the Philippines recently.
The Indonesia meet is set Nov. 17 to 18 where Malabanan and Co. will represent Team Prima.
Malabanan, a veteran mountain biker, ruled the ranking 30 to 39-year-old category in the Manila, Visayas and Mindanao national legs and accumulated a leading score of 995 points, while Reu Balicha (444) and Epi Cruz (429) settled for second and third place.
Farr, for his part, qualified after leading in the Expert category with 907.5 total points, followed by Erick 'Jon-Jon' De Leon with 830 and Eugenio Jong Sunga with 659.
Farr won a gold medal in last year's Downhill Masters event at the Singapore National Open Cycling Championship.
His son John Derick, also from Team Prima, finished second in the Open Elite class with 810 total points behind national team rider Eleazar Barba, who topped the category with 980 points. Parabanne Mendoza settled for third with 700.5 points.  
At 15-years-old, John Derick is the youngest rider competing in the Open Elite Category.
The first national leg was held at Patiis Racetrack in Montalban in April followed by the Guimaras leg in Iloilo in June and the Cagayan de Oro leg at Malasag Racetrack.
The qualifying system for the Asia Pacific Downhill Challenge in Indonesia is based on the points accumulated in the three national legs.   
"It was a great motivation I got from Team Prima and my family as I swept the entire national series and qualify as one of the country's representatives in the Indonesia tournament," said Malabanan, expressing his gratitude to Team Prima owner Alex Lim for his all-out support for the Prima cycling team.