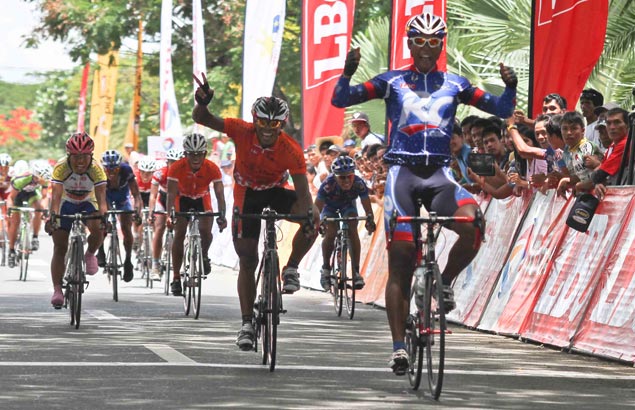 Three-time Southeast Asian Games track champion Alfie Catalan led a 1-2-3 finish for the provincial bets in Stage 11 of the Ronda Pilipinas that ended at the Lingayen provincial capitol grounds on Tuesday.
The 30-year-old native of San Manuel, some 90 kilometers from Lingayen, outsprinted his rivals in the last 300 meters, towing fellow Pangasinenses Arnel Quirimit and Emil Pablo to the finish line.
Catalan, racing on the road for the first time in eight years, finished the mostly flat 112.2-kilometer ride from Cabanatuan City, Nueva Ecija, in two hours, 40 minutes and 27 seconds, the same time as West Central Pangasinan's Qurimit, of Pozorubbio, and Umingan pride Pablo, bannering Eastern Pangasinan.
Mark Galedo of Roadbike Phils. still leads the overall standings (42:25.50), Eastern Pangasinan's Harvey Sicam (42:26.06) was in second place, followed by V-Mobile's Oscar Rindole (42:27.14) and veteran Lloyd Lucien-Reynante of Navy-Standard Insurance (42:27.79).
American Vinyl-LPGMA's Cris Joven, still racing despite a painful left hip he injured in a bad spill last Sunday, was fifth (42:27.40) while his skipper and Stage 9 winner Irish Valenzuela was sixth (42:28.40).
Metro Manila maintained top spot in the team overall rankings (121:08.20) while One Tarlac inched closer on the Big City bets (1:26.17.53). Navy-Standard Insurance was in third, 1:28 behind the frontrunners.