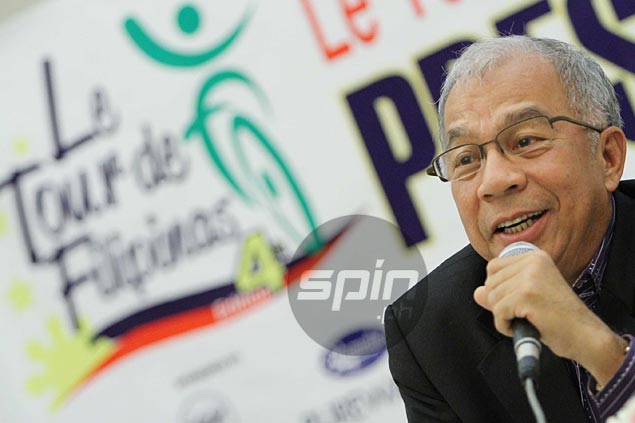 A HUGE field of 19 teams, including five local-based squads, comprise this year's cast in the Le Tour de Filipinas set in Northern Luzon from April 13 to 17.
At least 14 international teams have already confirmed their participation in the fourth edition of the only bikefest  in the Philippines to be part of the UCI Asia Tour, according to organizing committee head Gary Cayton.
"What makes this year's race interesting is the presence of foreign teams, including the top two in Asia today," said Cayton during the formal launch of the event on Friday at the Manila Hotel attended by no less than Philippine Cycling Federation head Alberto Lina.
Cayton didn't specify which among the 20 foreign entries listed by organizers are coming over, but certain of seeing action are the Terengganu cycling team of Malaysia and Tabriz Petrochemical team of Iran, the top cycling clubs in Asia today.
Race manager and former Tour champion Paquito Rivas said the presence of the two teams alone guaranteed a tough roster of cyclists out to unseat reigning individual champion Baler Ravina of the host country.
Rivas also added race organizers are definitely grateful that Malaysia decided to push through with its participation despite the dispute on the Sabah issue involving Filipino Muslims and Malaysian forces.
The four-day race that covers a total distance of 608.20 kilometers kick off with the lap from Bangui, Ilocos Norte (Pagudpud) to Aparri (175.5 kms), before it goes from Aparri to Cauayan for the second stage (196 kms).
Stage 3 is a 104 km stretch of ascending hills from Cauayan to Bayombong, before the annual odyssey on wheels thread the treacherous final stage from Bayombong to Baguio City in what organizers referred to as the `Northern Green Alps'  measuring 132 kms.
A total prize money of P800,000 is at stake in the event, although as Cayton stressed, "money is only the secondary concern of the cyclists as they are more keen on earning UCI points."