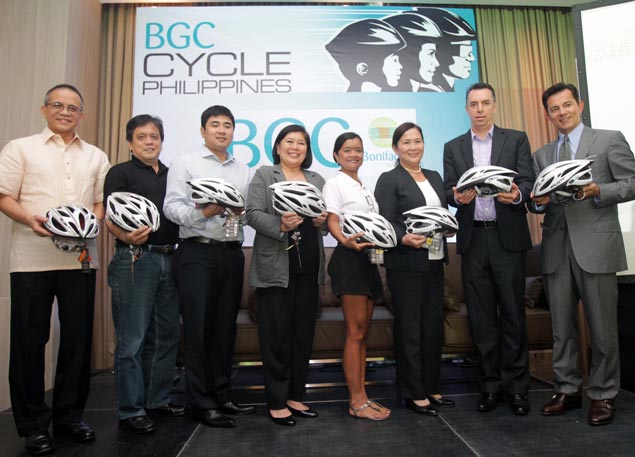 CYCLE Asia is keeping the bike craze burning all the way to the country by holding the inaugural BGC Cycle Philippines from November 15 to 17 at the Bonifacio Global City in Taguig.
The event will be the first time Cycle Asia is holding a bike meet in the country in the aftermath of its successful staging of the OCBC Cycle Malaysia and OCBC Cycle Singapore.
Cycle Asia organizes and promotes a network of cycling festivals in the region and is owned by Chris Robb, managing director of Spectrum Worldwide.
"I just returned from the Tour de France and what struck me was the incredible global growth of recreational cycling, seeing thousands and thousands and thousands of recreational cyclists along the road," said Robb during the formally launching of the meet on Saturday at the SEDA Hotel at BGC.  
The cycling enthusiast from Sydney stressed he had seen the same development in Asia over the last five years, and easily reminds him of the running boom during the 1970s and 1990s.
Robb said he would like to see the same thing happen in the country when Cycle Philippines holds the three-day cycling festival.
Sunrise Events, which is headed by Alaska Milk CEO Fred Uytengsu, and BGC has hooked up with Spectrum Worldwide in putting up the festival.
They expect around 3,000 participants, the bulk coming from the ranks of recreational riders who will vie in the tricyle ride, kids' ride and 20K community ride.
The elite riders will have their own race – a 40 km criterium. It will be limited to just around 200 riders.
Uytengsu, a certified triathlete, said they could have gone for a higher number of participants but said that's not the primary objective.
"The first objective is to promote sports tourism and a healthy lifestyle. In any event that Sunrise puts up, the first thing we look at is the safety of the participants," said Uytengsu.
Sunrise Events is the Philippine partner of the World Triathlon Corporation, and since 2008 has staged world-class sporting events like the Ironman 70.3, Xterra and Ironkids.
"We will only admit the number we can manage until we find a way to accommodate more," said the team owner of PBA ballclub Alaska.
"Before, running was the main sport at BGC and it's still very much present in the city. Then came football and now we recognize cycling," said Manny Blas, head of commercial operations for the Fort Bonifacio Development Corporation.
ADVERTISEMENT - CONTINUE READING BELOW
After Malaysia, Singapore and the Philippines, Cycle Asia will soon take its act to Cambodia, Hong Kong, Indonesia, Myanmar, Taiwan, Thailand and Vietnam. 
"Cycling continues to enjoy strong growth in the Philippines and we are naturally thrilled to introduce this event at BGC," he added.
"So, let's get the message out," said Robb.