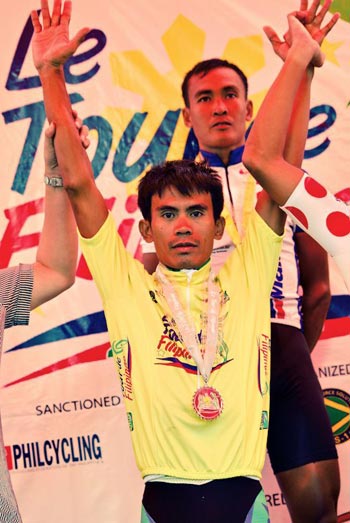 BALER RAVINA rides as the marked man of the 2013 Le Tour de Filipinas, yet the pride not only of Asingan town in Pangasinan but the entire country in the world cycling map is not to yield that easily.
"I will do my best to defend my crown. I waited and prepared a year for this and I want to become back-to-back champion," said the soft-spoken 31-year-old grizzled and certified climber, the second Filipino in 14 years to win an International Cycling Union (UCI) race since Warren Davadilla in the 1998 Marlboro Centennial Tour.
Again, the Bayombong (Nueva Viscaya)-Baguio City final Stage Four of the fourth edition of the Le Tour de Filipinas is expected to determine who occupies the top of the podium at the Burnham Park finish.
Stage Four looks short at 133.5 kilometers, but everything will be on a roller-coaster ride over the Cordilleras — now called the Northern Green Alps just below Luzon's highest peak — and the latest challenge for all cyclists in the country.
Stage Four is 90 percent uphill and downhill, much unlike the Kennon Road accent to Baguio City, which is a short 42 kms with the actual push on 40 percent grade covering a mere 25km.
Joel Calderon, then riding for Team Mail and More, and Ravina, then with Go21, finished 1-2 with identical clocking of four hours, 36 minutes and 6 seconds over the same route—some eight minutes faster than the time registered in a local multi-stage race earlier this year.
"That time submitted by Calderon and Ravina stands as the record of the latest and biggest challenge in Philippine cycling," said Gary Cayton, chairman of the race organizer Dymanic Outsourse Solutions, Inc. "The time to beat, and whoever does has a great chance of becoming the champion this year."
Ravina, who has switched to using his legal first name Jonipher after he was tapped to ride for the continental team 7-Eleven-Roadbike, clocked 4:50:04 and Calderon 4:53:51 in last month's race.
"I expect the foreigners to be tougher this time around, but they will be my motivation to do better in the climb (last stage)," said Ravina, who again plans to ride by his lonesome the Stage Four route and digest every climb and descent as he did last year.
"Secret training," said Ravina, whose victory in last year's Le Tour de Filipinas, made him the only Filipino in the top 100 of the Asian cycling rankings at 52nd. The Asian ranking is dominated by Europeans who ride for continental teams in the region.
ADVERTISEMENT - CONTINUE READING BELOW
The 2013 Le Tour de Filipinas is scheduled April 13 to 16, four days of tough and grueling race that starts in Bangui (Ilocos Norte), home of the now famous wind farm (windmills) and ends 1,300 meters above sea level at the Burnham Park in Baguio City.
Compact at a total of 608.20 kms, the 2013 Le Tour is much more action packed in its fourth edition. Eleven continental teams are entered—nine of them foreign from Taiwan, Uzbekistan, Singapore, Iran, Azerbaijan, Ireland, Malaysia and Portugal—and two new squads from the Philippines—7-Eleven-Roadbike and LBC-MVPSF Cycling Pilipinas
Eleven more foreign clubs from The Netherlands, Hongkong, Mongolia, Japan, Korea, Australia, UAE, Brunei, Iran and Germany are competing, as well as three local clubs Navy-Standard Insurance, Navy-Marines and LPGMA-American Vinyl and the PhilCycling national team.
Racing gets off to a grueling start with a 175.5-km grind from Bangui to Aparri, Cagayan, on April 16. Stage Two brings the field of 130 riders (five to a team) 196 kms to Cauayan, Isabela. Stage Three is an easy 104-km cruise to Bayombong, Nueva Vizcaya.