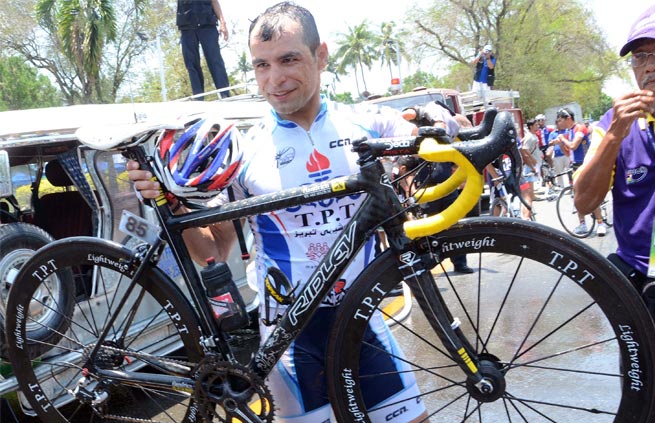 BAYOMBONG, Nueva Vizcaya — A young Filipino had a slim chance to steal the show from a grizzled Iranian but as a rider and a gentleman, he knew where he stood.
Mehdi Sohrabi of Iranian continental team Tabriz Petrochem towed Rustom Lim in a two-man break for most of the final 25 kilometers that when the Iranian staked a claim on the victory with still a good two kilometers left, telling the Filipino not to attack on the final sprint, the young man readily agreed.
Lim's second-place finish matched the best performance by a Filipino in three days of Le Tour de Filipinas, and Lim genuinely believed he deserved second place and an identical time of two hours, 24 minutes and one second in the 104-kilometer Stage Three from Cauayan in Isabela to Bayombong in Nueva Vizcaya on Monday.
"Respeto," said Lim, a 19-year-old rider for LBC-MVPSF Cycling Pilipinas team.
"Kanya ang trabaho, dinala niya ako … sa dulo na lang ako talaga tumulong," he added, noting that it would have been incredibly hard for him to grab a podium spot had he not rode on the Iranian's coat tails for most of the race.
"Malamang inabot kami (ng peloton)."
The peloton rode tough throughout the race, easily gobbling up multiple attempts by different riders on a stage that featured two intermediate sprints and a short ascent, but the Iranian-Filipino tandem proved too much for the pack to overcome.
The 31-year-old Sohrabi, who formerly rode for Belgium-based continental team Lotto-Belisol, got Lim to ride with him as they broke from the pack with 25 kilometers to go.
With the Iranian taking all the wind head on, the duo built a lead of 45 seconds by the 89-km marker and pushed it to a minute and 25 seconds by the 95-km mark.
Ronnel Hualda of Philippine continental team 7-Eleven Roadbike took third place, leading a pack of 50 riders that clocked 2:25:07.
Korea's Lee Ki Suk, riding for Taiwan-based continental team CCN, was fifth for the day and also got bonus points for taking second and third place in the two intermediate sprints. Lee, who started the day with a 13-second lead over Douglas Repacholi in the overall individual standings, now has a 16-second lead.
Ryan Tugawin of 7-Eleven-Roadbike was first to the top of the day's King of the Mountain marker, 68.3 kilometers from the start line, earning three points to join Tom Hamilton of the City of Perth team on top of the standings with three points each.
ADVERTISEMENT - CONTINUE READING BELOW
Defending champion Jonipher 'Baler' Ravina was part of the main group, failing to trim his deficit, and as with the past three stages, the 31-year-old 7-Eleven rider said he is looking forward to the next day for a chance to make a move.
Stage Four on Tuesday is the final day, however, and the last chance for Ravina and his teammates to steal the thunder from the leaders.
"Meron pa rin tayong advantage, yung alam natin yun ruta. Huling stage na, kaya magkakaalaman na talaga dito."
Sprint specialist Lee, meanwhile, showed he also has the legs for some climbing to finish with the main group, although Monday's climb is much easier compared to Tuesday's ascent to Baguio via Kayapa Road in the 132.7-kilometer Stage Four.
Stage Three results:
Mehdi Sohrabi                                    Tabriz             2:24:01
Rustom Lim                                        LBC               same time
Ronnel Hualda                                    7-Eleven         2:25:07
Nur Amiruli Fakhruddi Mazuki                 Terengganu     same time
Lee Ki Suk                                         CCN               same time   
Mohd Saiful Anuar Aziz                         Terengganu    same time 
Edmundo Nicolas                                 American Vinyl same time
Kim Hong-Ki                                        Korail             same time
Kim Jun-Bin                                         Korail             same time
Douglas Repacholi                                Perth             same time 
Overall individual standings:
Lee Ki Suk                        CCN               12:08:21
Douglas Repacholi              Perth             12:08:37
Ghader Mizbani                  Tabriz            12:08:39
Hossein Askari                   Tabriz            12:08:42
Caleb Jones                      CCN               12:09:12
Amir Kolahdoz Hagh           Tabriz             12:09:12
Saeid Safarzadeh               Tabriz            12:09:13
Luke Parker                       Perth             12:11:50
Edgar Nieto Nohales           Polygon           12:12:01
John Ebsen                       Synergy          12:12:03