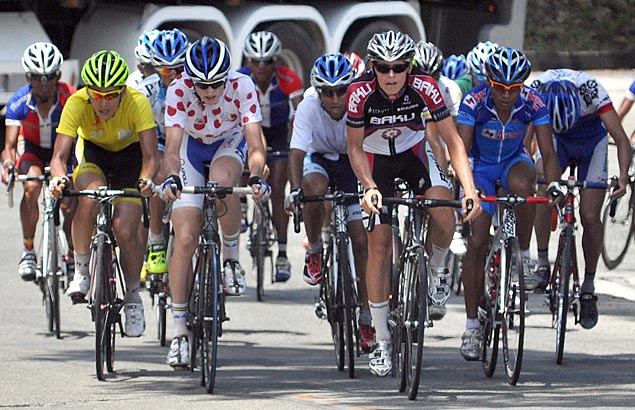 BAGUIO CITY — The road features brutally tight hairpin bends, high-speed descents comparable to sudden drops on a roller coaster, and four climbs that are beyond categorization by international cycling standards.
Looks like the Philippine cyling has a new signature stage.
The treacherous ride along Kayapa Road on the way to Baguio that served as the final phase of the 2013 Le Tour de Filipinas has earned raves from foreign and local riders alike and is expected to serve as the highlight of future multi-stage races in the country.
Various forms of the ascent to the country's summer capital had been used for decades, including the dreaded figure-8 that had seen riders go up and down Kennon Road, Marcos Highway and Naguilian Road all in one stage.
But the rollercoaster-like ride of just over 100 kilometers on that "fourth route" has suddenly become a favorite, at least among top-caliber cyclists.
Riders of the Iranian continental team Tabriz Petrochem said it is one of the best routes they have even ridden, and coach Kazemi Sarai Ahad said the squad wouldn't have traveled to the Philippines if not for the tough challenge offered by the stage.
"The first three days… okay," said Ahad, a two-time Asian champion. "But if not for Stage Four, maybe we wouldn't come here."
The closing stage of the four-day Tour started in Bayombong and passed the towns of Bambang, Aritao, Kayapa and Ambuklao, and two-time UCI Asia Tour No. 1 Ghader Mizbani crossed the finish line at Burnham Park with a time of four hours, 30 minutes, and eight seconds.
"This is the hardest… most technical… very very nice course… really hard but really beautiful," said Mizbani, a 20-year veteran of multi-stage races.
So brutal was the course that nine of the 61 riders that responded to the starting gun in Bayombong failed to finish the race, including one —  the yellow jersey holder himself — who fell 20 feet off a cliff.
The stage alone should be enough to entice more foreign teams to come over and test their mettle on the course, according to two-time Marlboro Tour champion and now coach Renato Dolosa.
"Very demanding ito," said Dolosa. "Kahit yung matitinding climbers nahihirapan."
"Dahil nagugustuhan at nacha-challenge yung foreign riders, pupunta sila. Dahil doon tumataas yung level ng competition para sa local riders."
The 2013 Le Tour de Filipinas featured 10 foreign teams and five local squads.
The course was surveyed by former Tour champion and King of the Mountain Paquito Rivas and was included in the itinerary only last year.
ADVERTISEMENT - CONTINUE READING BELOW
Continental Commissaires Jun Lomibao and Carlos Gredonia believe the route should stay in the calendar.
"Compared to those roads, this is a true roller coaster," said Lomibao. "Four hors categorie (beyond categorization) climbs, mahahaba at mabibilis na lusong, really brings the best out of the riders."
Lomibao also noted that Mizbani's clocking was almost six minutes quicker than the best time last year, logged by stage winner Joel Calderon and Jonipher 'Baler' Ravina, who wound up as overall champion.
Gredonia stressed that UCI Asia points staked in the Le Tour make the Philippine race more enticing for foreign teams.
"Challenge na sa kanila (foreign teams), may chance pa na makakuha ng points, importante para sa pag-angat nila sa world level. Malaking challenge din yun sa local teams," said Gredonia.