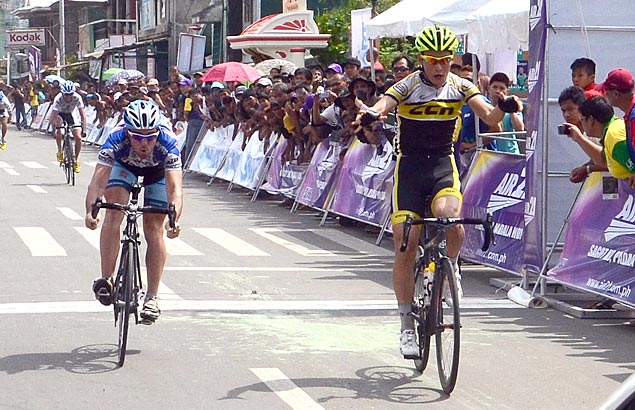 APARRI — South Korea's Lee Ki Suk of Taiwan-based Continental Team CCN took individual stage honors, while Iran's Tabriz Petrochem took charge in the team event as expected at the start of Le Tour de Filipinas on Saturday.
The 26-year-old Lee, admittedly an inferior climber, managed to stay with the early break on the mountain roads to the Ilocos Norte-Cagayan border then made his move in the flat stretches, topping three of four intermediate sprints en route to victory in the 183-kilometer race from Bangui, Ilocos Norte.
The Korean outsprinted Australian Douglas Repacholi of Perth Cycling Team in the final stretch, crossing the finish line in front of the Aparri  town hall ahead by half a bicycle to clinch the yellow jersey.
The two officially submitted times of four hours, 35 minutes and 42 seconds, while Tabriz Petrochem's Ghader Mizbani finished just two seconds behind to take the final spot on the podium.
Hossein Askari crossed the finish line just a wheel behind Ghader, while two other teammates, Saeid Safazadeh and Amir Kolahdoz Hagh, checked in fifth and sixth, respectively, 30 seconds off the stage winner.
That made it four Tabriz riders in the top 10, putting the formidable Iranian squad firmly on top of the team classification. The times of the top three riders in each team count in the team standings. Teams are allowed to field a minimum of three and a maximum of five riders.
"I was not so good in climbing, so I waited for the opportunity later," said Lee, winner of the final stage in the recent Tour of Thailand.
The race started under overcast skies at Bangui, famous for its windfarm, and temperatures dipped further as light drizzle fell in the first 30 kilometers of the race.
That resulted in slippery slopes and a more challenging ascent to the first King of the Mountain marker 26.7 kilometers from the start line, topped by Tom Hamilton of the City of Perth squad.
The local riders' supposed edge in familiarity with the route and the hot weather were washed away by the early drizzle then heavy rain at Sanchez Mira and Pamplona before the sun came out for a blistering finish in Aparri.
By then the Filipinos have fallen way behind, with national team member and one-time Tour Pilipinas runner-up Lloyd Lucien Reynante emerging the best-placed local rider in 14th place, six minutes and 57 seconds off the pace.
Ronnel Hualda had the same clocking, while Joel Calderon was in 19th place, 7:04 behind, and defending champion Baler Ravina in 22nd spot, 7:15 behind.
ADVERTISEMENT - CONTINUE READING BELOW
"Medyo hindi nakasabay, maagang nakawala yung foreigners. Kaya naman sana, pero ngayon lang, medyo hirap," said Ravina, saying he had difficulty breathing early in the race.