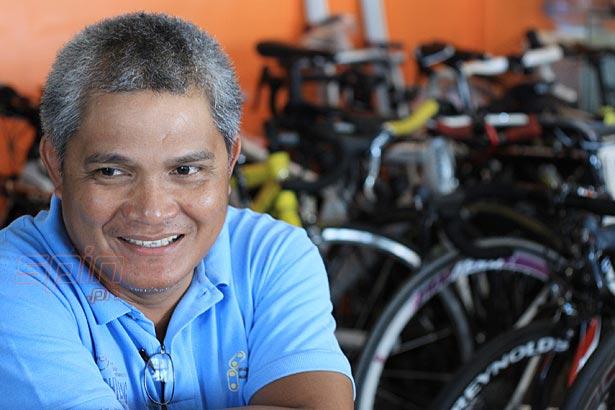 Cycling great Renato Dolosa still hits the roads these days, but no longer in the backbreaking manner that he used to.
Nowadays the two-time Marlboro Tour champion spends most tour stages near the tail end of the peloton and in the comfort of a team support car, untouched by the scorching heat of the sun or the driving rain.
His 45-year-old legs may no longer be able to keep pace with the new crop of road warriors, but Dolosa's reputation as one of the best tactical riders in Philippine cycling has made him in demand as a coach.
"Medyo matrabaho lang pero gusto ko ito," said the 1992 and 1995 Tour champion. "Nakakatuwa na marami pa ring nagtitiwala [sa akin] hanggang ngayon." 
Dolosa has had a lot of success in his second career. He led a rookie-laden squad to the team title in the 2006 Tour Pilipinas and to a runner-up finish the following year. His team also reigned supreme in the 2009 Padyak Pinoy and last year's Ronda Pilipinas.
Away from the multi-stage summer tour, the pride of Gubat, Sorsogon makes a living as manager and in-house coach of the Tour of Luzon Bike Café, where he helps clients plan their bike builds or upgrade their current setups.
He is not selfish with advice to enthusiasts, allowing wannabe racers to pick his brains.
A typical day would see Dolosa meeting with his wards in the morning, manning the Macapagal Avenue branch of the Tour of Luzon Bike Café and proceeding to its Sucat branch in the afternoon before heading home to Sta. Rosa, Laguna.
With the renewed interest in cycling, Dolosa has never been short of job offers. A number of business executives and wealthy hobbyists want him as personal trainer and there are opportunities for him to hold regular cycling clinics.
Another friend has also brought up the idea of setting up an internet-based coaching and consulting program for the former Tour champ.
But Dolosa remains a simple man with modest goals, content that he has been able to support the education of his three sons —his eldest is a nursing graduate, his second is a hotel and restaurant management major and his youngest a high school senior.
"Hindi rin naman ako naghahangad ng malaki… basta mayroon lang, basta komportable lang," said Dolosa.
Neither is he bitter than no one among his sons decided to follow in his trail.
"Nakita rin ng mga anak ko yung hirap sa tour kaya siguro wala na rin sa kanila ang sumubok na sumunod sa akin," he said. "Mabuti na rin 'yun, nakikita ko silang mapunta sa iba-ibang field."
ADVERTISEMENT - CONTINUE READING BELOW
Masters and Executive races are popular these days and the desire to compete still burns for Dolosa. He has even built two race-worthy bikes for his personal use.
But the two bikes will have to stay in the garage for now, with Dolosa content in his role as mentor to aspiring champions.
"Basta makikinig sila, willing akong magturo. Hangga't may nagtitiwala, nandito lang naman tayo para tumulong," he said.