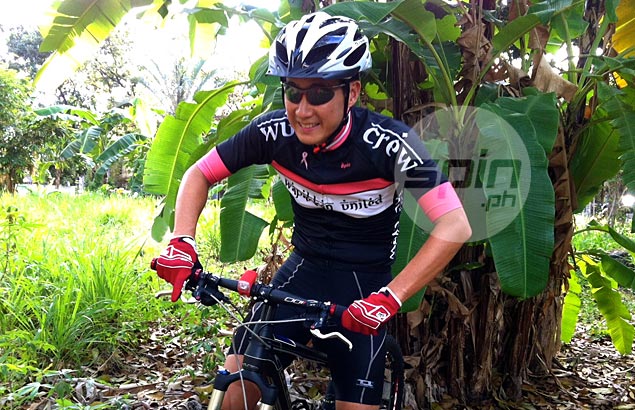 ONE life principle that my late father taught me was to try anything (that won't kill you) once; you may not like it, but at least you'll gain a personal insight from the experience. He was referring to food when he shared this nugget of wisdom, but he could have been alluding to anything from coloring your hair green to breaking wind in a crowded elevator and blaming the person next to you for the atrocity.
So in keeping with the 'Try Anything That Won't Kill You Once' axiom, I went out and got myself a mountain bike. 
Okay, so it's not as exciting as cliff jumping or as sublime as scaling Everest, but after watching numerous YouTube videos and hearing countless stories from mountain bike (MTB, for short) 'dirt heads' about the inexplicable thrill of riding through fire roads, negotiating single tracks that test both physical and mental resolve, and even crashing and breaking a few bones, what other reason did I need to plunk down some serious coin for a freedom machine that would transport me to all these exciting adventures? 
Of course there was some homework to be done before actually making the purchase. First, I did a little acquaintance ride with trail designer and bike shop owner Edmund, who patiently explained the mechanics of riding an MTB, and guided me through a technical 2k loop which featured various terrain and obstacles one might encounter in a trail ride. And even if it was disorienting to climb aboard the bike with a sitting position and ride profile I was unaccustomed to, and riding through course that highlighted switchbacks, tree roots, garbage (!), puddles, and humps of all shapes and sizes, I was hooked. I then talked to Raul, The Bike Master, and asked as many questions as I could think of regarding the type of bike to get, given my inexperience, along with the rides, events, and races I planned on joining. Both Edmund and Raul stressed on the technical aspect of MTB riding, which is what sets it apart from road cycling, since the many twists and turns of the course and the unpredictability of the surfaces require the rider to have a heightened sense of awareness throughout the ride. A momentary lapse in attention or judgment can often result in a few cuts and bruises, or worse, a trip to the ER.
ADVERTISEMENT - CONTINUE READING BELOW
In the end, I settled for a hard tail (no rear suspension) niner (oversized twenty-nine inch diameter tires) beauty that I christened Nessie (or Ness, for short). This acquisition was unprecedented on several counts:  first, I actually did a lot of research before making the jump; second, I behaved like an expectant father, asking about the bike's arrival and following up on when I could have my bike-fitting soonest; and last, I named my bike, which I'd never done for my first two roadies (road bikes). I never pushed through with calling them Virgil and Namu, but maybe I'll start now –just so they don't feel bad.  I have this thing about my inanimate possessions like my bikes and shoes having feelings, so I try not to neglect them for too long a time. But that's a story for Psychology Today.
When the day finally came for my first legitimate ride, friend and training buddy Hector generously offered to bring me back to the same technical loop Edmund introduced to me during my acquaintance ride. Unfortunately, we forgot to bring IDs (which were now required to enter the main premises) and were forced to improvise. Hec decided to go take me to his old stomping grounds, the University of the Philippines (UP), frequented by many a runner and cyclist throughout the week. There are no trails exclusively earmarked for mountain bikes in UP, but this doesn't stop anyone from creating their own routes around the campus' popular tree-canopied asphalt roads and abundant grass-covered plots. 
That moment when my front wheel softly rolled off the concrete sidewalk onto the soft grass on the inner loop of the 2.2 km academic oval was my bike's first kiss with nature. The muffled smooches between tire and terra punctuated with the occasional snap, crackle, and pop of stray branches, gravel patches, and dried leaves, produced a symphonic and scrumptious lip-lock of pure auditory delight.  I tried to stay close enough to Hec to be able to 'follow his line' and take the smoothest path, as we careened through the grassy fields interspersed with portions of concrete and asphalt.  The sudden dips and irregular bumps were managed with aplomb by Nessie's suspension fork, while I tried to get used to the workings of the gear shifters, which were a departure from what I was used to with roadies.  As we crossed effortlessly from soft to hard terrain, and from well-worn dirt footpaths to less-taken craggy inclines, I thought: This is a whole new world (cue theme song from Disney's Aladdin here) – a roadie could never do this.  And I don't even feel guilty about saying it!
ADVERTISEMENT - CONTINUE READING BELOW
We rode around the campus for a good hour or so at chika (read: conversation) pace as Hec tried to make the most of showing me representatives of typical MTB terrain and obstacles, and how to approach or attack them. Sooner than I expected, it was time to head home, and that meant negotiating the traffic-snarled roads back to where we started. I suppose I hadn't entirely jettisoned my roadie mindset, because it surprised me the first few times Hec turned onto the sidewalks from the main road and pedaled over storm grills and sloping driveways in the most normal of ways. I, of course, followed immediately behind him (after a second or two of hesitation) and again thought:  I could never do this on a roadie.
Aside from the obvious differences in physical attributes between a road bike and a mountain bike, I instantly felt safer on the road when riding my MTB. The sturdiness of wider rimmed tires, the confidence of a heftier frame, and a more stable upright riding position made for a convincing argument in favor of Nessie.  So navigating through the vehicular gridlock was not a ride through the West Bank, and we got through that in no time. As a fitting end to my virgin ride, we got to try out the not-so-secret downhill trail through a field that Hec's teammate Paolo tipped him on. Good work, remarked Hec as he watched me slow to a halt at the end of the downhill. Just learn to relax — your forearms looked like you were hitting a tennis forehand with rackets on both hands, he critiqued.
There's that technical aspect again. I expect to pay a higher tuition fee in the school of MTB riding than I continue to pay in the school of road cycling, but it's too early to tell which child is my favorite.
A fist bump and a wave of thanks later, Hec and I went our separate ways as I peeled off in the direction of my house. Nessie gleefully hurdled the speed bumps along the way, while her tires hugged the turns in a firm embrace as we sped through the village streets. Crediting first-time ride excitement and quality fork suspension for my un-banged up state, I pulled into the driveway grinning at the thought of the many more exciting rides Nessie and I would have in the future.
ADVERTISEMENT - CONTINUE READING BELOW
As I brushed off the remaining dried splatter of mud from Nessie's matte black frame and gently hoisted her onto the waiting arms of the wall rack, the ages-old truism reverberated in my head: You never forget your first.
                        --------------------------------0----------------------------------
"After your first day of cycling, one dream is inevitable. A memory of motion lingers in the muscles of your legs, and round and round they seem to go. You ride through Dreamland on wonderful dream bicycles that change and grow. "                                                                                           
                                                                                                                                - H. G. Wells