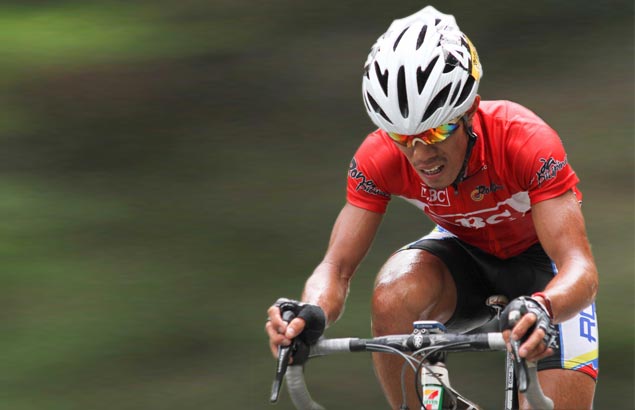 Mark Galedo had a worry free ride and formally clinched the overall title while Alfie Catalan claimed his third stage victory at the close of the Ronda Pilipinas on Sunday.
The final stage is traditionally a victory lap for the overall winner and the 16th-stage 60-kilometer stage around Rizal Park was no different. Galedo held a 33-second lead after the penultimate stage and closed out his campaign by finishing 22nd in the final stage.
Galedo bagged the P1 million prize after pedaling for 2,200-kilometers in 50 hours, 53 minutes and 58 seconds.
Irish Valenzuela made a desperate final effort to trim the gap and ended 29 seconds behind (50:54.27). He pocketed P500,000 while Lloyd Lucien Reynante received P250,000 for third place (50:58.07).
Catalan, a three-time Southeast Asian Games track cycling champion, finished the stage in 1:41:26, becoming the only triple stage winner of the event.
V-Mobile won the team title (151:29.24) worth P1 million while last year's champion AMV-LPGMA (152:02.02)  bagged  second place, good for P500,000. Navy-Standard Insurance (152:12.50)  garnered P250,000 in taking third place.
Valenzuela, who won the uphill Stages 9 and 13, added P50,000 to his winnings with the King-of-the-Mountain crown. His teammate Cris Joven also bagged P50,000 for emerging as the Sprint King. John Rene Mier, 19, of Lahug, Cebu City won Best Young Rider honors and earned P50,000.
The 5-foot-4 Galedo bagged a earned a total P1,138,400.
While 96 riders began the journey in Sarangani province nearly three weeks ago, they were down to 74 cyclists on Sunday.