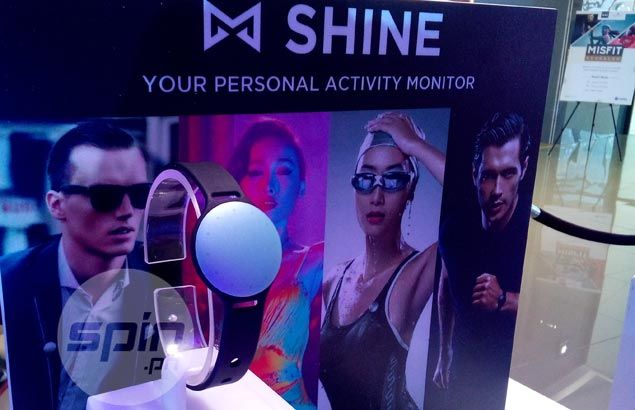 "ARE you moving enough?"
This question is the premise that led to the development of Misfit Wearables' Shine, a device described by its creators as "the world's most elegant activity tracker."
The ubiquitous device has reached Philippine shores where it was formally launched on Wednesday in a media event at the Power Mac Center at SM Aura in Bonifacio Global City before a gathering of members of the press and the blogging community.
While endurance is normally measured by heart rate, the Shine is designed to motivate its wearer to keep moving – something most people take for granted. It doesn't matter which angle you choose. It can be a favorite sport, a daily yoga practice, running to your next meeting, or even just a light jog around the neighborhood.
Philippine brand ambassador Anton del Rosario of the Azkals was on hand to personally share his experience with his Shine.
"I no longer wear watches anymore. And it's something I can wear during soccer games," he said.
Rules that prohibit players from wearing watches do not apply to the coin-sized Shine which the Azkal player straps on his shin guard before a match. 
How does the Shine work? Set your goal on the Misfit Shine app downloaded on an Apple or Android smartphone or tablet; track your progress; and have fun with your friends.
The Shine has a calorie counter, a sleep monitor and a watch function.
Avrelien Joly, Misfit Wearables general manager for Asia-Pacific, said the Shine is waterproof up to 50 meters and has a battery that can last for a whole year before needing a replacement.
"It fits any lifestyle – sportsmen, fitness buffs, professionals - will never need to take it off," Joly said.
To access information, the wearer only needs to tap on the aircraft-grade aluminum surface of the Shine. In order to sync with an iPhone or similar Apple device, the Shine is simply placed on top of the screen - there is no need for wires, cables or pairing.
A fitness tracker can be worn almost anywhere - thesilicone strap and clip-on allows the Shine to be worn in a variety of ways: as a watch, a necklace, clipped on articles of clothing or footwear or (as one attendee demonstrated) an earring.
The Shine comes in four distinct colors: topaz, black, gray and champagne. Its retail price is Php6,850 at all Power Mac Centers.
ADVERTISEMENT - CONTINUE READING BELOW