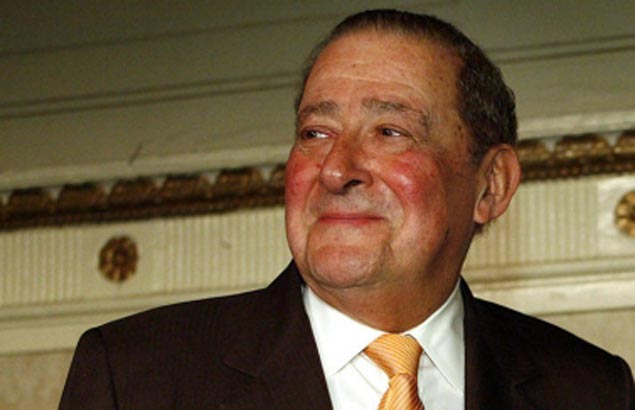 Bob Arum wants an investigation into Manny Pacquiao's controversial loss. Chris Farina/TopRank
RUMOR: Manny Pacquiao's wildly disputed defeat to Timothy Bradley was the handiwork of a Las Vegas gambling syndicate.
FACTS: Boxing being the red light district of sports, the rule of thumb when it comes to conspiracy theories is that even the wildest ones you've ever heard are plausible – and a lot of them are probably true. But the problem is, most of those conspiracy angles have died a natural death without anyone getting to the bottom of the real story.
Bob Arum should know. Top Rank's boss has been in boxing for 47 years and he has dealt with rigging suspicions for as long as he probably cares to remember and from opposite sides, both as the accuser and the accused. The way he sounded after Bradley's victory, he also knows this episode will end up no differently from similar accusations he had dealt with and seen before.
Hours after the bout, Arum, 80, already sounded like a man resigned to the fact that no amount of noise from enraged fans, and whatever probe officials undertake, would lead to nothing. In a talk with Filipino scribes, he said any protest lodged before the Nevada State Athletic Commission – the body that regulates boxing in the state covering Las Vegas – is an exercise in futility.
"Let's be honest about it, I have as much chance winning a protest challenging President Obama's birth certificate," the veteran boxing man told Spin.ph. "So why go through the effort?"
He has since changed direction, telling US-based sportswriters that he would put off any push for a Pacquiao-Bradley rematch until Nevada attorney general Catherine Cortez Masto launches a probe into the judging of the fight, all the while touching on issues like 'rigging' and 'conspiracy.'
"I want to investigate whether there was any undue influence, whether the (Nevada Athletic Commission) gave any particular instruction and how they came to this conclusion," Arum told Yahoo Sports. "If this was a subjective view that each of [the judges] honestly held, okay. I would still disagree, but then we're off the hook in terms of there being no conspiracy. But there needs to be an independent investigation because it strains credulity that an event everybody saw as one-sided on way all three judges saw it as close. It strains credulity."
By then, however, the fight promoter's fighting words had come off as mere sound bites, meant to placate an angry mob than a resolute effort to get to the truth.
In fact, accusing fingers are pointed at Arum himself. Some veteran boxing people pointed out that it was Arum, more than anyone else, who needs a Bradley rematch later in the year. He needs to deliver a second fight to Pacquiao this year, but negotiations with the jailed Floyd Mayweather Jr. have gone nowhere and there is no other bankable fight for the Filipino superstar out there.
However, people who have been in the fight game for a long time, including members of Pacquiao's own inner circle like associate Lito Mondejar, have immediately cast doubt on that presumption.
Meanwhile, the under-fire Nevada commission has stood its ground amid the storm of protests. Chairman Skip Avansino was quick to defend the judges who worked the fight, saying: "We had three seasoned professionals working and I don't question their determination. I 'm not going to second-guess our judges."
His executive director, Keith Kizer, was even more dismissive when asked about the widely ridiculed decision. "Every fighter who loses a close fight looks at the judges," he told the Los Angeles Times.
There were also reports of a huge surge of bets for Bradley just minutes before the bout, although a check of the fight odds showed no significant movement.
The fact is, results of big-time boxing fights are subject to suspicion because they attract millions of bets and are often held in the world's gambling mecca. These are also the easiest to rig because of the great human factor involved: there are the judges, the promoters, the referee and the fighters themselves.
Amateur boxing has undertaken major changes in its scoring system in the last few years in an effort to rid themselves of the problems of bum decisions. But to this day it has yet to come close to a solution, simply because of suspicions that remained on those judges who push those buttons.
So unless boxing as a whole undergoes a miraculous transformation or one person with enough credibility comes up with tons of evidence to prove that boxing fights are indeed rigged, all suspicions will remain just that.