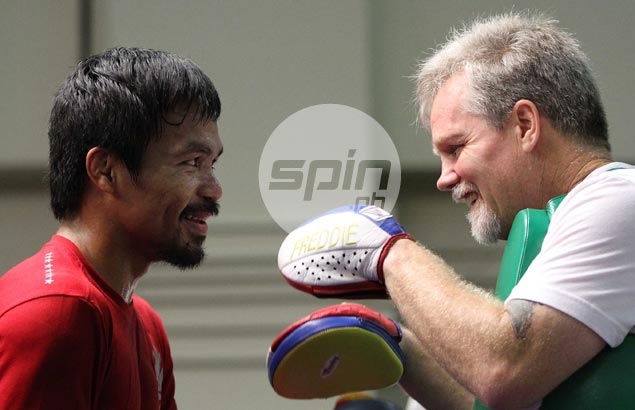 MACAU – Freddie Roach is not about ready to let Brandon Rios have the last word.
Responding to the American's claim that he's no `punching bag' for Manny Pacquiao, Roach insisted he is, and that there is only one difference between him and a punching bag.
"He's a punching bag that swings back," said Roach just hours after Rios made the bold statement during the formal press conference for his 12-round match against Pacquiao Saturday.
"That's the only difference between him and a punching bag."
The longtime Pacquiao trainer even claimed Rios doesn't have any defense at all in his arsenal, to the extent of saying Ricky 'The Hitman' Hatton, a known slugger who the Filipino southpaw destroyed in just two rounds four years ago, is a better fighter defensively.
"I think defense-wise, Ricky (Hatton) has better defense than him. Brandon Rios has never had good defense."
Roach and Rios also swapped small tirades during the press conference on Wednesday night.
After Roach addressed Pacquiao at the podium and told him `Sunday, there is no problem,' Rios snapped back and said, "Sunday is going to be a problem. They thought I am no problem.'
But Roach is persistent Rios hardly poses any concern for him.
"The more I watch him on tapes, the worse he gets. He doesn't do anything spectacular, he's not special. He's just a tough guy, he's just in front of you, he swings back, but he's too slow for Manny in my opinion," said Roach about the 27-year-old American, who sports a 31-1-1 with 22 KOs.
"One thing about Brandon Rios is that he will fight back. I know that. And that is our biggest advantage."