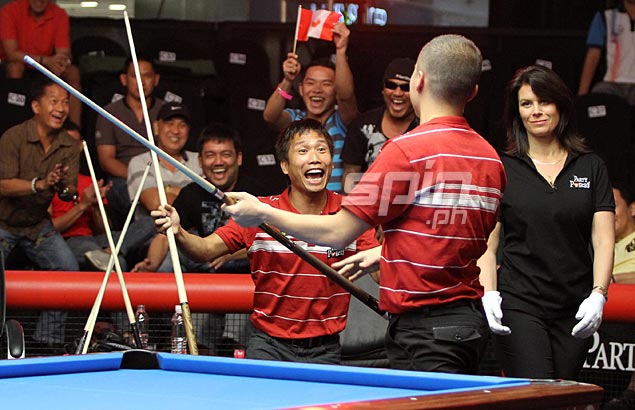 Alex Pagulayan, pictured celebrating with John Morra after Canada's 8-7 win over Sweden, encountered far less political obstacles in representing Canada in world events than he did representing the Philippines, his agent says. Jerome Ascano
RUMOR: Former world champion Alex Pagulayan got so fed up with the politics in Philippine billiards that he stopped carrying the country's colors and went back to playing for Canada in international competitions.
FACTS: IT has been a while since the man they call 'The Lion' competed in local tournaments. So it came as a surprise when several Filipino players saw Pagulayan quietly roaming around the Robinsons Galleria activity hall during the Women's World 10-Ball Championship late last month.
Later, when Matchroom Sport announced the lineups for the World Cup of Pool at the Robinsons Midtown Manila, there came a bigger surprise: Pagulayan, it was announced, would be representing Canada and not the Philippines in the team event.
Pagulayan, who grew up in Canada, is a dual citizen. From time to time, he makes it a point to return to Canada to meet his family. But for the most part of his billiards career, he has proudly represented the Philippines in international competitions including the Southeast Asian Games, where he won three gold medals in the 2005 edition which the country hosted.
So seeing Pagulayan representing Canada at the World Cup of Pool came as a shock to diehard fans.
When he watched the action in the Women's World 10-Ball Championship, it was obvious that Pagulayan doesn't want to be noticed as he was seen wearing a cap. When a couple of sportswriters asked him about the switch, he politely declined to answer.
"It's a sensitive issue. Please contact my agent," Pagulayan said in Filipino.
Contacted by Spin.ph, Pagulayan's agent Jim Wych said one of the reasons why his client has decided to represent Canada is because he found it difficult to play in events sanctioned by billiards' international federation, the World Pool Association, after he decided to carry the Philippine colors following his victory in the 2004 World 9-Ball Championship.
"When Alex won the world 9-ball title in 2004, he declared himself to be Filipino because this title represented considerably more (in the Philippines) than it did in Canada even though he went to this global event under the Canadian flag," Wych said in an email to Spin.ph.
"This was a business decision pure and simple. For this action, Alex was forced to remain in a state of limbo for two years where he could not represent Canada or the Philippines in any WPA-sanctioned events."
But ultimately, he admitted that it was the ugly politics in the local billiards scene that drove the cue master out. The state of affairs of the Billiards and Snooker Congress of the Philippines remains a mess up to now, with two presidents -- former Gintong Alay chief Arturo Ilagan and billiards patron Aristeo "Putch" Puyat --laying claim to be the rightful leader.
Wych admitted Pagulayan had a falling out with some local billiards officials and decided that playing for Canada was an easier, uncomplicated choice to take.
"He encountered political issues from one Philippine association that tried to make life very difficult for him while playing as a Filipino. Our association here (in Canada) welcomed Alex back and stood up for him with the WPA to get his full playing status back again as a Canadian representative without having to wait two years," said Wych.
"The easiest and shortest answer to the question is that Alex encountered far less political obstacles in representing Canada in world events than he did representing the Philippines," Wych concluded.