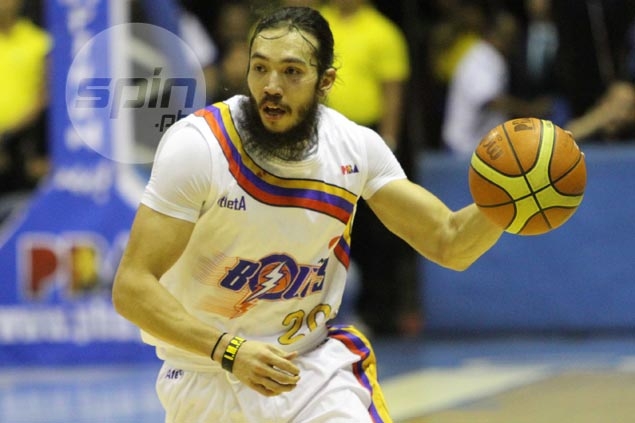 Speaking on the eve of a PBA review into their controversial skirmish which Dillinger lamented has turned into a "circus," the Fil-American said all he did when he confronted Abueva after a collision was pin him down as he said some words to the controversial Alaska sophomore.
"I never put my hand around Calvin's throat … not even close to that. I pinned him down, but that was the most I did," said Dillinger, denying an accusation first made by Alaska owner Wilfred Uytengsu.
Asked what he told Abueva, Dillinger said: "I told him, 'Boy, you need to respect me, and you need to respect the game!' And then he didn't respond. That was it!"
The former cadet at the US Air Force Academy continued: "If it was my intention to hurt Abueva, it could have been worse. Nobody can stop me. But I am not that type. I can't just go out there and run amok. Sorry, that's not me.
"I was supposed to be in the Air Force, only that I focused on my basketball career," he said. "Back in there, I was taught to show restraint, discipline and have integrity. There I have learned how to channel and conduct myself properly in life and on the court."
Asked if he felt Abueva deliberately hit him during the collision that saw the two fall over the baseline railing, Dillinger said he was giving the former NCAA MVP the benefit of the doubt.
Any advice to the younger Abueva?
"He just needs to learn to channel his showmanship and make himself a better player. He is already a great player! He's gonna be okay," he added.