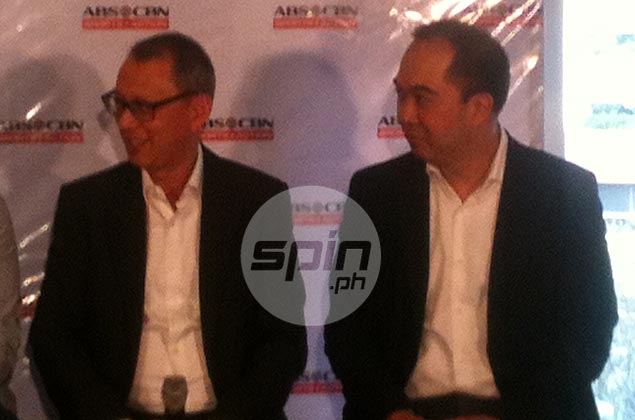 GIANT network ABS-CBN has expressed interest in obtaining the broadcast rights of the Philippine Basketball Association (PBA) - but only if an opportunity arises.
Speaking during the launch of ABS-CBN Sports+Action, a new sports channel on free television replacing Studio 23, ABS-CBN Integrated Sports head Dino Laurena said the network doesn't have concrete plans at the moment to bid for the TV rights of the pro league.
Laurena however, said the network will bid for the PBA broadcast if there will be an opportunity to do so, pointing out that TV5 still has a live contract with the league.
"Our position remains that we are not closing our door to any particular sports partner," said Laurena when the reformatted channel Studio 23 was re-launched on Thursday in Makati City.
"Currently, nire-respeto namin 'yung mga kontrata for live sports events," said Laurena.
The launching of the new sports network sparked calls from basketball fans for ABS-CBN to obtain the television rights to Asia's first ever professional league amid criticism of the PBA's current coverage by TV5 and its sister channel on the UHF band, Aksyon TV 41.
A poll by Spin.ph showed 33.54 percent of 2,711 respondents want the PBA to be moved to the giant network or its sister channel on the UHF band. GMA/GMA NewsTV came in second at 32.80 percent, followed by IBC 13 (27.64 percent), TV5/Aksyon TV 41 (3.80%), and PTV 4 (2.14 percent).
Even though the PBA is currently on a rival network, Laurena said ABS-CBN still believes the pro league remains a very marketable product.
"We can't deny the history of the PBA. It's the only other successful professional basketball league in the world next to the NBA. We don't take that away from the PBA," said Laurena.
"It is an enticing content. But like I said, nasa tamang panahon lahat," he added.
ABS-CBN Sports+Action Channel 23 will be replacing the old Studio 23 starting on Saturday, with 70 percent of its content and programs to be about sports.
ABS-CBN has made several bids for the television rights of the PBA in the past, but failed to get the nod of the league's board of governors.
A broadcast partnership with the PBA's former carrying arm Solar Sports that had the games being shown on Studio 23 on the UHF band also proved shortlived.