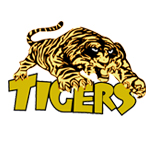 University of Santo Tomas
Last season, the Tigers caught everybody by surprise when they won five of their final seven second-round games, booked a spot in the Final Four and gave Ateneo a fright in their semifinal duel.
This year there will be no sneaking up on anybody for the Tigers as the Espana-based team, with an almost intact line-up that continuous to improve by the day, is tagged as the contender most likely to spoil Ateneo's five-peat quest.
And with good reason.
Despite the departure of Chris Camus, Pido Jarencio's squad can count on a talented nucleus made up of Jeric Teng, Jeric Fortuna and Karim Abdul, a solid big man who could have easily made the Mythical Team in his rookie year if not for a one-game suspension incurred in the final game of the elims.
Kevin Ferrer is also tipped to make his presence felt with a year of seasoning behind him, while Aljon Mariano, who along with Clark Bautista are returning to the Tigers' line-up after a one-year break, has strung up a couple of impressive performances in the preseason.