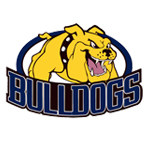 National University
The Bulldogs' quest to end a long, title-less spell will rest squarely on the shoulders of one man, Bobby Ray Parks. Yet on how good the players around him would be this season will decide how far NU would go.
Undoubtedly one of the most celebrated players in college hoops, Parks took MVP honors right in his rookie season and figures to be an even better player with a year of experience behind him as well as a gold-medal stint with Sinag Pilipinas in the Southeast Asian Games.
But Parks' support cast must rise to the occasion if the Bulldogs are to improve on their 6-8 (win-loss) performance last season and contend for a championship for the first time since Danny Ildefonso's years with the school.
The prospects do look good. Emmanuel Mbe remains the team's top inside threat and second scoring option, while La Salle Greenhills alum Mark De Guzman – based on his play in the preseason – is expected to ease the pressure on the duo and make an immediate impact.
The roster is also deeper with dependable players like Glenn Khobuntin, Ajeet Singh, Jul-ashri Ignacio, Denice Villamor and Cameroonian Joel Betayene.