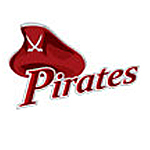 Lyceum of the Philippines University
After overachieving in its maiden campaign last year, Lyceum could end up doing the opposite in Season 88.
The Pirates surprised everyone after starting last season with a 5-5 record to become an early Final Four contender. They eventually lost steam, but still finished Season 87 by nearly making the semifinals with a 7-11 mark.
With basically the same roster this year, the Intramuros-based squad could have a hard time catching up with their vastly improved rivals.
They will still rely on prolific swingmen Chris Cayabyab and Rich Guevarra to shoulder most of the offensive load.
Point guard Shane Ko has done a terrific job orchestrating the Pirates' offense in the preseason, and has even raised his scoring average to double digits.
But their most glaring problem is their lack of capable big men. Since removing double-double machine Allan Santos in the second half of last year, they have been outrebounded by their opponents.
One addition is the 6-foot-6 Joseph Ambohot. Coach Bonnie Tan has been starting him in the offseason for lack of a better choice. But Ambohot has yet to give justice to that decision. Undersized big men Mark Francisco, Vence Laude, and John Azores will have to continue working doubly hard off the boards.
Finishing fifth like they did last year may be a tall order. The Pirates could lose more games this year, but they'll always go down fighting.