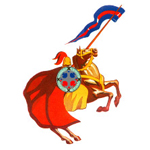 Letran
With an almost intact lineup, Letran goes into Season 88 as the dark horse just as it had been in recent years.
After finishing Season 87 in third spot with a 14-4 win-loss record, the Knights almost made the finals after forcing San Sebastian to a deciding game before bowing in their Final Four matchup.
And as this year's host, Letran surely won't let its supporters down. The Knights initially got a scare when center Raymond Almazan failed to show up in the team's practices. The Mythical Five member, however, renewed his commitment and rejoined the team.
Mark Cruz has shown tremendous improvement in the preseason as the pint-sized playmaker led the Intramuros-based squad in scoring in the Filoil Flying V Cup. Double-double machine Jam Cortes has been his usual hard-working self.
Jonathan Belorio and Kevin Racal have also been solid in leading the supporting cast of coach Louie Alas.
But Kevin Alas remains the Knights' bona fide star. He's the main man and his fine all-around production and clutch shooting will definitely come in handy especially when the chips are down.