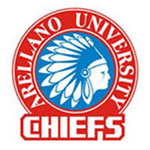 Arellano University
With more newcomers than veterans, Arellano University is in for a rebuilding year in Season 88. The Chiefs have seven rookies and two transferees, making them one of the youngest teams in the NCAA.
But their youth doesn't mean they're inexperienced. Their rookie class has already shown promise in preseason tournaments.
Their two Filipino-Canadian recruits, AJ Serjue and James Forrester, seemed to have adjusted nicely to the Pinoy playing style. Serjue was the squad's leading scorer in the Filoil Flying V Preseason Cup. (Serjue, however, won't see action this year after suffering a season-ending anterior cruciate ligament injury.) Fresh graduates Nard Pinto and Julius Cadavis have proven they are ready to play college ball. Aldrin Lunas, 6-7, and 6-foot-4 John Bangga give the Chiefs a lot of size in the shaded lane. Transferees LJ Malanday, a former NU Bulldog, and Levi Hernandez, a St. Francis of Assisi Dove last year, bring their experience to the squad.
But the Chiefs' offense will still revolve around point guard Rocky Acidre and center Prince Caperal while Vergel Zulueta is the squad's new skipper, the position vacated by Andrian Celada.
New Chiefs coach Koy Banal has already proven in the past he can have immediate success, leading San Beda to the 2006 title in his first year at the helm. But the Lions' squad six years ago was definitely stronger than what Banal inherited at Arellano.
The Chiefs could contend next year. For now, it's safe to say they could end up at the same spot in Season 87—in seventh place.