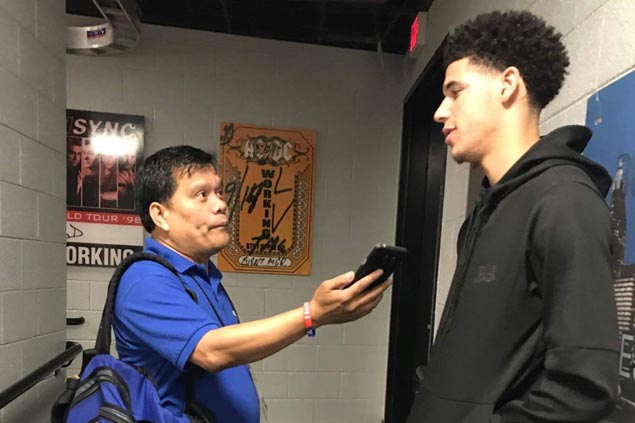 LAS VEGAS — In his NBA debut last week at the ongoing summer league here in this blistering desert, wonder boy Lonzo Ball finished with an underwhelming triple-single — five points, four rebounds and five assists.
In that 96-93 loss to the Los Angeles Clippers, the Lakers' No.3 pick in last June's draft was frighteningly bad, shooting 2-for-15 from the floor and 1-for-11 beyond the 3-point arc. He also managed three turnovers in 32 minutes of play.
Since then, the UCLA alum has met, if not exceeded, his immense potential.
In an 86-81 loss to the Celtics on July 8, Lonzo dazzled with 11 points, 11 rebounds and 11 assists. After resting a sore groin against the Sacramento Kings on July 10, he led LA to another victory and bludgeoned the Sixers with 36 points, 8 rebounds and 11 assists.
In his last outing two days ago, Ball rocked the Thomas and Mack center with a triple-double performance — 16 points, 10 rebounds and 12 assists — that sank the Cleveland Cavaliers, 94-83.
Through four games, the phenom from Chino Hills, California has amassed an impressive 68 points, 33 rebounds and 39 assists. But besides his 78.5 percent clip at the free throw stripe, his shooting remains as reliable as a lying witness — 35.7 percent from the field and 19.4 percent from the 3-point arc. 
His 19 turnovers are also a cause for concern. So is his weight, a slender 190 pounds, which begs for more meat to withstand the grind of a long season and the battering he would get while trying to finish in the paint.
Warts and all, though, I still believe Lonzo Ball will be a star for many years to come.
And here's why.
Lonzo Ball is quick as Chinese takeout. He is a brilliant passer, an imposing 6-foot-6 point guard who can spot an open teammate before they even know they're open. He also has flair and Hollywood swag, not to mention a motor mouth dad who, as a promoter, can put Don King to shame.
Summer league games are usually meaningless, an open audition for wannabes trying to earn an NBA roster spot. But people flock the Cox Pavilion and Thomas and Mack Center to see Lonzo play. A couple of dudes even paid $5000 seats for the privilege. That's called star power.
He sure has plenty of flaws, but they're all correctable. His shooting percentage will rise once he becomes more prudent with his shot selection. And his turnovers will dip with time and experience.  
At 19 years of age, Lonzo is already a multi-millionaire, He makes $6.2 million in this upcoming season and $7.4 million after that. If the Lakers pick up the team option for the 2019-20 and 2020-21 seasons, Ball will make an extra $19.7 million.
ADVERTISEMENT - CONTINUE READING BELOW
Once he plays out his rookie contract, Lonzo will then be eligible to a super max deal that could be worth well over $200 million.
Somewhere out there, LaVar Ball is laughing, yapping his way to the bank.
ONE-ON-ONE WITH LONZO. Along with Spin.ph contributor Balt Chavez, who flew from Iloilo City to cover the Summer League, I cornered Lonzo Ball in the Thomas and Mack Center hallway leading to the team lockers two days ago.   
While he seemed stunned by the ambush interview, he showed grace under duress and answered a few questions about his slow ascent to the pro ranks and his prohibitively-priced shoes.
Lonzo seemed like a snob, observed Balt, but we both cut the young Laker some slack, what with the media attention showered on him plus the attendant expectations that come with it.
He is polite and well-spoken. Poised and intelligent. He wears jersey No.2 but plays like a No.1. 
He will be fun to cover for many, many seasons to come.